This is the second part of a multi-part module on Free Radical Halogenation.
View the first part here: Part 1: The Mechanism
View the second part here: Part 2: Regioselectivity
Radial intermediates (step 2a product) produce an sp2-like hybridization orbital with the lone electron in the vacant 2p orbital, therfore attack of the radical electron on the C-H bond can take place from either side of the molecule.  The result will always produce an RACEMIC MIXTURE (or equal amount) of the two enantiomers.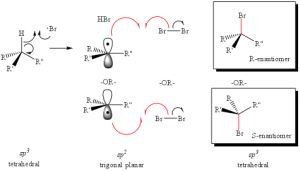 There are multiple examples of this reaction to review in the StudyOrgo.com Study Mode. When ready, test your knowledge in the StudyOrgo.com Quiz Mode.
Not a member yet? Sign-Up today!
Stay tuned for Part 4: Practice Quiz